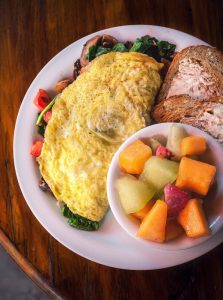 Here's a great little recipe that is extremely healthy and helps to increase your protein. This recipe was slightly modified and came from, who else but,  Betty Crocker!
This is one of my favorite meals – which is actually a good brunch. It's loaded with protein, iron, and multiple vitamins from fresh eggs, vegetables, and fruit. It's also very simple to make, and you can embellish it further with either Spanish sauce or Tobasco – if you like it hot!
Omelet Ingredients:
1 Tsp Olive Oil or Canola Oil (I always use Olive Oil, the real stuff…from California)
2 Tbsp chopped red bell pepper
1-2 Tbsp chopped broccoli
1 Tbsp chopped onion
1/4 Cup sliced mushrooms
1 cup loosely packed fresh baby spinach leaves, rinsed
1/2 cup fat-free egg product or 2 eggs, beaten
1 Tbsp water
Dash Salt
Dash Pepper
1 Tbsp shredded Cheddar Cheese
Directions:
In 8-inch well-seasoned cast iron (or non-stick) skillet, heat oil over medium-high heat. Add bell pepper, onion, broccoli, and mushrooms to oil. Cook 2 minutes, stirring frequently, until onion is tender. Stir in spinach; continue cooking and stirring just until spinach wilts. Remove vegetables from pan to small bowl and set aside.
In a medium bowl, beat egg product or eggs, water, salt, and pepper with fork or whisk until well mixed. Reheat the same skillet over medium-high heat. If using an iron skillet, you may turn it to low at this point. Quickly pour egg mixture into pan – which cooks very fast in a hot cast-iron skillet. While sliding pan back and forth rapidly over heat, quickly stir with a spatula to spread eggs continuously over bottom of the pan as they thicken. Let stand over low heat a few seconds to lightly brown bottom of omelet. Do not overcook; omelet will continue to cook after folding.
Place cooked vegetable mixture over half of omelet; top with cheese. With the spatula, fold the other half of omelet over vegetables. Gently slide out of the pan onto the plate. Serve immediately with a bowl of your choice of sliced fruit and a side of toast.
As mentioned, some people like to put a little Spanish Sauce or even Tobasco, straight, on your omelet if you like it hot and spicy!
And, here's a quick recipe for Spanish Sauce:
Spanish Sauce Ingredients:
3 tbsp Butter
1 Large Onion – Sliced
1 Large Green Bell Pepper – Sliced
4 Tsp Italian Seasoning
1 Tsp Garlic Powder
1 Tsp Sugar
1/2 Tsp Cayenne Pepper
4 Dashes of Tobasco Sauce
2 cans at 14.5 oz. Stewed Tomatoes
1 can at 15 oz. Tomato Sauce
Directions:
In a skillet over medium-high heat, melt the 3 tbsp butter. Add the sliced onions and peppers. Sir fry for approx. 3 minutes. Add the rest of the seasonings and simmer and stir for another 3 minutes or so.
Next, add the stewed tomatoes, and tomato sauce. Begin to gently break apart the stewed tomatoes, reduce heat and simmer until omelet is ready.
This makes a good-sized portion of Spanish Sauce, but don't let it go to waste! You can also use Spanish Sauce over Pork Chops for a spicy dinner! If you want to make a smaller portion of Spanish Sauce, you can use half the ingredients and use just one smaller can of tomato sauce instead of the stewed tomatoes and larger can of tomato sauce.
As mentioned, this is a great breakfast or brunch. It's loaded with all kinds of healthy foods, vitamins, and helps to increase your protein intake for the day! Enjoy!